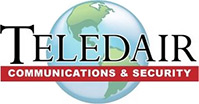 We Service What We Sell. Since 1987.
Address: 2541 Elmira Street, Sayre, PA 18840
Phone: (800) 888-7493
Teledair Communications & Security: Your Home and Business Security Experts in Sayre Since 1987
When it comes to the safety of your home and business in Sayre, PA, Teledair Communications and Security knows that there is always the threat of someone deciding that they're going
to target your property. Although that can be a little unsettling to think about, the good news is there are many steps you can take to keep both locations secure. By taking security seriously, not only will you be able to keep out the type of casual burglar who trolls through a neighborhood looking for an easy target, but you'll also be able to protect your business against more sophisticated thieves who may have a specific motivation to go after your business.
Take Care of the Basics
While we help businesses in Sayre with camera systems, access control systems and security systems, the first thing you need to do is take a look at the basic security measures you have in place. The reason this is important is if you don't have those bases covered, more advanced security tools aren't going to be more effective.
In terms of both your home and business, the time when they're most vulnerable is when you're away. Under normal circumstances, you're going to be away from home during the day, and then away from your office at night. When you're gone from either location, it's in your best interest to make it look like someone is still there.
For most home and business owners, the simplest way to accomplish that is by using lights. Even if it's late at night, this will make someone think twice about whether or not a location is actually empty. Keep in mind that if you're worried about increasing your utility costs, putting CFL bulbs on a timer will minimize the amount of energy needed for this task.
In addition to making a space look occupied, take steps like always checking that the doors are locked, making arrangements for mail and lawn care when you're away for an extended period of time, and being sure that your windows are actually secure.
Taking the Next Step
After you get all the basics in order, the next step is to figure out what kind of specialized security equipment you need. Since different homes and businesses have their own needs, we encourage you to get in touch with our security experts at Teledair Communications and Security for a security audit of your home or office. This will allow us to get an idea of what you require, and then make the best recommendations based on your specific needs.
Don't Forget About Your Communication Needs
As our name implies, Teledair also takes pride in helping our neighbors like Joanne Kizer Real Estate with their communication needs. We integrated digital phone systems for their business in Sayre to increase their networking abilities which in turn improved productivity.
So whether you are looking for camera systems for your home or office or in need of digital phone systems for your business in Sayre, contact the professionals at Teledair today.