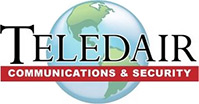 We Service What We Sell. Since 1987.
Address: 2541 Elmira Street, Sayre, PA 18840
Phone: (800) 888-7493
Network Video IP Systems
Network Video IP Systems
Whether you need an IP-Surveillance solution to secure the safety of people and places or to remotely monitor property and facilities Teledair Communications & security, Inc. can meet your customized network video IP systems needs with the exceptional professional service that our customers have come to recognize and expect from a leader in the industry.
Whether you run a single shop, office or multiple buildings and facilities, network video IP systems make a noticeable improvement in your bottom line. The introduction of network video has revolutionized the way retail professionals work with loss prevention, store optimization, fraud detection, security and customer service. Overall, network video IP systems provide a whole new set of tools to help you reach operational excellence.
When it comes to educational facilities we hear about those that have been exposed to vandalism, violence or burglary. As a result valuable resources are lost to cumbersome repairs and investigations. A network video IP systems solution from Teledair Communications & Security, Inc. enables you to stay focused on your core business which is education. It also gives you a cost efficient tool to provide increased security of students and staff members by helping to prevent violence and theft as well as minimize the costs for vandalism and investigate incidents. Our video systems can also help identify suspects more clearly and effectively.
Through consultation with your Teledair Security Professional, you can benefit from a broad range of network cameras, with models suitable for all educational environments. We'll take the time to walk through your facility and put our years of experience to use for you!
Public safety and security is an important issue for governments at all levels. Both citizens and government officials wish for a daily life without having to face immediate threats and criminal actions. Our Teledair certified professionals will listen to your needs and create a system to meet those needs for now and the future with network IP video surveillance which has proven to be an efficient preventative tool in creating a safer and more secure environment within public areas such as: Ministries and city halls, Court buildings and Jails, Museums, Transportation hubs and other Public Outdoor areas.
Banking and Financial Network Video surveillance is not only about improving your protection against robberies. It is also about providing a secure environment for your staff and customers from the parking lot to the vaults. A network video solution from Teledair offers a scalable surveillance platform, enabling you to create a customizable, flexible and cost-efficient surveillance system, capture HDTV quality video of all incidents which helps in shortening investigation times and to have the ability to stay one step ahead of violence and fraud.  
For recording, you can use standard IP-based storage solutions which means that you no longer have to worry about malfunctioning recorders that can take weeks to replace.
For many banks and financial institutions, video encoders have been their first step intoIP-based video surveillance. This has enabled them to protect their existing analog CCTV investments while taking advantage of the many benefits of network video. As a result, they have a cost-efficient and scalable system that helps facilitate all handling and investigations of their recorded video.
With a Teledair Communications & Securities, Inc. designed Network Video IP System, you get a network surveillance system that enables remote access to video from any number of locations or from a single facility. The complete system is easily connected to your existing network infrastructure and computers which keeps installation and maintenance costs low.
Let our Certified Systems Solution Experts discuss the benefits of a Network Video IP System no matter what business or industry you are managing. Teledair Communications & Securities, Inc. is ready to take you into the latest expanding trends of Security Surveillance Solutions.
Recent Posts

Testimonials

"Lakewood Vineyards has been a customer of Teledair Communications and Security, Inc. since February 2011."
Lakewood Vineyards
read more →
Service Area