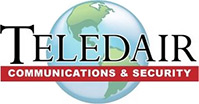 We Service What We Sell. Since 1987.
Address: 2541 Elmira Street, Sayre, PA 18840
Phone: (800) 888-7493
Business Phone Systems
Whether you own a  small business or a growing 200 employee enterprise in multiple locations, Teledair Communication's Business Phone systems offer the right communications and collaboration capabilities to fit your needs, budget and available resources.
From basic telephony to the most sophisticated unified communications Teledair solutions experts offer growing businesses flexibility, mobility, cost-effective scalability and investment protection. Even though budgets are down the demand for services is up. There's constant pressure to reduce operational costs and improving employee productivity is imperative. In this rocky and challenging environment all businesses are looking for trans formative and cost-effective solutions that will deliver on promise.
Connect anytime and anywhere with associates, customers and partners—in the office, at home or on the road. See how the right business phone systems can help you boost both productivity and customer satisfaction with durability, reliability and flexibility.
Teledair Communications experts can offer a wide range of user-friendly features to suit many business environments and users from the front desk to the conference room. Whether you are a supervisor who spends their day on the phone or a mobile worker who is never at their desk, we have the phone system that meets your needs.
Teledair Communications & Security, Inc. is a leader in enterprise communications. We provide unified communications, data networking and services to businesses and government entities around our region that includes Northeast Pennsylvania and Central New York. Our business phone systems experts integrate your communication, security and access control needs into one compact, efficient and affordable package to help you stay one step ahead of your competition.
Some examples that will help your business gain in efficiency and capabilities:
-Transfer calls can be made externally anywhere in the United States and Canada.
-All messages can be date and time stamped.
-System wide all Page capabilities or Individual intercom phone connections.
-Setup features with Multiple Line Integration of appearance and ring on each phone.
-Select Conference call features to meet your efficient daily business needs.
Contact Teledair Communications & Security, Inc. today for a consultation about an upgrade or your  next communications system.
Recent Posts

Testimonials

"Lakewood Vineyards has been a customer of Teledair Communications and Security, Inc. since February 2011."
Lakewood Vineyards
read more →
Service Area