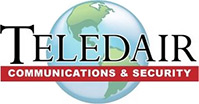 We Service What We Sell. Since 1987.
Address: 2541 Elmira Street, Sayre, PA 18840
Phone: (800) 888-7493
Customer Testimonials

Comfort Inn Towanda
898 Golden Mile Rd
Towanda, Pennsylvania 18848
Phone: 570.265.5691
Fax: 570.265.2375
Operating in the hospitality industry, we need to make sure we have the best and newest technology for our guests and to keep up with the trends. Teledair provides these products for us. Teledair has installed our phone and security systems to the highest level of satisfaction for us and our guests. They did a very professional job with the installation of both systems. Every member of their sales and technical team has been pleasant to work with. They are very knowledgeable about their products and go out of their way to assist us with any new projects we want to do. They have been very reliable whenever we need them. They have met and exceeded our expectations. I have recommended them to potential clients and will continue to recommend them.
Sincerely,
Bridget Rice
General Manager
Comfort Inn-Towanda
---

Lakewood Vineyards
4024 State Route 14
Watkins Glen, NY 14891
Phone: (607) 535-9252
Toll-free: (877) 535-9252
Fax: (607) 535-6656
Lakewood Vineyards has been a customer of Teledair Communications and Security, Inc. since February 2011.  We switched our security system from another company to a Teledair planned and upgraded system.  Our Teledair rep was very helpful in offering suggestions and offering options that saved as many of our devices as possible from the old system.  Their install technicians and programming staff were very professional and on time during the change over.  They truly service what they sell too!
Since our conversion to a customized Teledair system, we have added extra devices to our Vineyard operation.  Again the service technicians were very professional and courteous.  The training and support during programming and the operation is always appreciated.  We would recommend Teledair Communications and Security, Inc. to other companies and residential customers for any Security and Communication needs.  They offer the customized plans and service that make them a leader in their industry.
---

Tom Hesselson
Owner
163 East 14th Street
Elmira Heights  NY
Hesselson's has been a customer of Teledair Communications and Security, Inc. for many many years.  We have purchased numerous systems that include a Phone System, Video Surveillance System and Business Burglary System.  Teledair has also completed various specific IT cable runs and phone extensions runs for us throughout the years.
Anyone can sell a type of system but the service after the sale is what's important to all of us at Hesselson's.  Teledair Communications and Security, Inc. services all that they sell with competitive pricing and professional service technicians.  Ted and the employees at Teledair have always responded quickly to our calls and met our communications and security needs with the latest products at an efficient price.  In today's business world, it's very reassuring that we have the same vendor to contact for all Phone System, Video Surveillance and Business Burglary systems.  The single source responsibility that Teledair displays has made them a valuable provider for our extensive business needs.
Recent Posts

Testimonials

"Lakewood Vineyards has been a customer of Teledair Communications and Security, Inc. since February 2011."
Lakewood Vineyards
read more →
Service Area