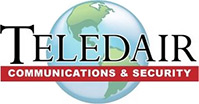 We Service What We Sell. Since 1987.
Address: 2541 Elmira Street, Sayre, PA 18840
Phone: (800) 888-7493
As the Weather Warms Up in Sayre It's the Perfect Time to Check Your Security System
As a locally owned business, Teledair Communications and Security knows that waking up in Sayre, Pennsylvania to the sound of chirping birds and wonderful green scenery is par for
the course in this borough. June is here and it feels great to live in a place where there are so many awesome friendly people just like you. Small town life seems to move at a leisurely pace, which is just fine with everyone that calls Sayre home. Yet, local residents still have access to plenty of modern conveniences enjoyed in bigger cities. Ask anyone in Sayre about what they think of the local lifestyle, and you would probably find that the general consensus is that it is great – especially during the warm summer months.
The warmer weather brings with it an opportunity to get out and explore the local area, including parks, restaurants, entertainment and shopping. It's not unusual to spend some time chatting with friends and neighbors on a warm, sunny day. Since Sayre is relatively safe, there isn't much talk about crime. On occasion, someone's home or business gets robbed and when that happens, everyone talks about what a shame it is that something like that happened to such good people. The thing is, though, security systems in Sayre are not uncommon for home and business owners, but many people are still relying on outdated security systems to protect their property. Teledair Communications and Security reminds you that summer is the perfect time to give your burglary alarms in Sayre an update.
In a charming town like Sayre nobody expects to get robbed, which is why people fail to take precautions to better protect their property. Unfortunately, feeling too safe and secure can leave one open to being a target of wily criminals that see an opportunity. Fortunately, Teledair is a world-class provider of sophisticated alarm systems in Sayre. As a matter of
fact, our headquarters are located in this beloved community. While we do provide alarm systems in Binghamton and other areas in New York and Pennsylvania, Sayre is our hometown. It's where we choose to run our operations. Therefore, we know this area quite well and care about the security and safety of our local friends and neighbors.
As your local security experts, we know that warm weather makes people want to hang out and do other things than stay cooped up indoors. You spend more time away from home in the summer. For local business owners, the issue of security is more about keeping money and property secure while being accessible to all kinds of people. Warm weather means more people coming around and hanging out. It also creates more opportunities for theft to occur. That is why we recommend upgrading an old security system with a new one that uses the latest technologies. While we've helped local businesspeople like Joanne Kizer Real Estate by installing a superior phone system, we are also able to help protect homes and businesses from intrusion.
Teledair Communications and Security encourage you to contact our local Sayre office to discuss how we can help you protect your business or home with one of our state-of-the-art security systems.