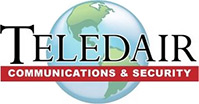 We Service What We Sell. Since 1987.
Address: 2541 Elmira Street, Sayre, PA 18840
Phone: (800) 888-7493
Communication Networks and Security Solutions
I would like to take this opportunity to introduce ourselves to you, our webpage visitors. Teledair Communications & Security, Inc. is a locally owned and operated family business that started in 1987. Since then we have served Telecommunications and Security customers in Pennsylvania and New York with quality products and service long after the sale. "We Service What We Sell" has been our long standing motto over our years of  successful business transactions.
With the ever changing global market, we also have the capability to handle clients anywhere in the continental United States and have done so for the past 10 years.
As a full-service communications network and security solutions company, Teledair specializes in quality business telephone systems, security systems, access control solutions, surveillance and video IP systems as well as home and business burglary devices and solutions. Our phone systems are highly programmable and offer a large amount of flexibility in this ever changing global economy.
The telephone systems and security solutions at Teledair have been the basis of our company since the very beginning. We offer a tremendous amount of experience and knowledge in these areas because of the years spent in education and service seminars that focus on the latest technologies in this field.
Please contact us through our "Request A Quote" form or at Info@Teledair.com to learn more about our exciting and effective products for Communications and Security. We will use all our resources to meet you growing business or residential needs.
Thank you so much for your interest in our company.
Sincerely,
Edward V. Darrow
Teledair Communications & Security, Inc.
Recent Posts

Testimonials

"Lakewood Vineyards has been a customer of Teledair Communications and Security, Inc. since February 2011."
Lakewood Vineyards
read more →
Service Area