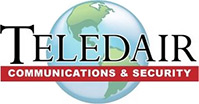 We Service What We Sell. Since 1987.
Address: 2541 Elmira Street, Sayre, PA 18840
Phone: (800) 888-7493
Surveillance Systems
At Teledair Communications & Security, Inc., our philosophy is that the best video surveillance systems are a combination of your needs and ideas with our experience. This security solution can become a huge asset that helps you grow your business and protect the investment you've worked at for so long. Video surveillance systems can help you manage different aspects of your business both internally and externally around your location. Our experienced professionals work with a broad range of security cameras and DVR (Digital Video Recorders) and NVR (Network Video Recorders) that can help you reduce many of the top risks that can affect your business.
Digital and Network video allows the processing of visual information from virtually any place, 24 hours a day 7 days a week!
Our business security systems help provide you with a level of organizational awareness by being able to adjust daily business plans through the visual information collected through our systems. This information will keep you one step ahead of the game in this global economy. Let one of our experienced surveillance systems experts assist you in designing a customized video surveillance program that meets your current needs as well as future expansion.
With a DVR or NVR surveillance system you can quickly and effectively change the way you manage your business operations.
Some other benefits include:
-Accessibility: A video surveillance system can give you the ability to quickly and easily view events in multiple areas of your facility.
-Profitability: With a video surveillance system, you can have greater control over loss. It may also help lower liability and insurance costs.
-Productivity: A video surveillance system can discourage workplace violence, harassment and poor customer service.
-Reliability: Digital video recorders (DVRs) and Network video recorders (NVRs) mean no more broken or worn-out tapes and no more costly maintenance. Everything is stored on Hard Drives for easy access.
-Enhanced Capabilities: A video surveillance recorder now allows you to store more information using less space and events captured with a video surveillance system can easily be downloaded, recorded to a CD-ROM or storage drive and duplicated when an additional copy is required.
-Remote Access: The best part of the new generation  DVRs and NVRs is that these units can help you oversee your business from anywhere you have remote connectivity.
Contact our Teledair Communications &Security, Inc.  surveillance systems solution experts today to schedule a  consultation about your business or facility. The investment you make now will meet your current needs effectively and help you plan for the future of expansion.
Recent Posts

Testimonials

"Lakewood Vineyards has been a customer of Teledair Communications and Security, Inc. since February 2011."
Lakewood Vineyards
read more →
Service Area