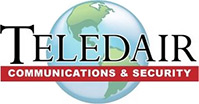 We Service What We Sell. Since 1987.
Address: 2541 Elmira Street, Sayre, PA 18840
Phone: (800) 888-7493
The Top Three Tips to Securing Your Business
As a business owner, chances are you always have at least a dozen different things on your plate at any given time. Since every aspect of your business plays a role in its success, it can be difficult to decide where to focus your attention. Even though it can be easy to temporarily put on the back burner, Teledair Communications and Security suggests that security should actually be at the top of your list. 
The last thing you want is for the business you've worked so hard to build to be compromised. Although properly securing your business can seem like a huge task to manage, the good news is you can take a strategic approach to enhancing your security systems. The top three areas where you need to secure your business are burglary defense, employee theft and retail security:
Burglary Defense
Having plenty of exterior lighting around your business is a great way to deter anyone from attempting to burglarize your building. It's also important to find the right line of defense for your business by evaluating the top business burglary systems on the market which includes video surveillance and ip cameras, then deciding which one provides the features you need to keep your entire business secure 24 hours a day.
Employee Theft
No business owner wants to think that their employees would steal from them. Unfortunately, statistics show that businesses across all industries lose billions of dollars each y
ear as a result of their employees stealing. So even though most employers take time to throughly screen the people they hire, there's always a chance that something will come up in a person's life that makes them decide they're going to commit a crime against the company that pays their salary.
When it comes to deterring employee theft, access control systems are one of the best options to use. The big advantage of this type of system is it provides a record of who is accessing what areas of your business. So even if theft is never an issue, having this information and the ability to grant different employees various levels of access is very useful.
Some businesses also opt for video surveillance systems in areas where an employee may be tempted to steal. Although this isn't the right fit for every business, it's definitely something to consider. Additionally, it's worth noting that the same type of surveillance system can be used to protect inventory or other important business property from outside theft.
Retail Security
The best way to deter retail theft is to have at least one salesperson on the floor at all times. Additionally, one or more ip camera systems can allow you to keep an eye on everything that's happening. And in the event that someone does steal, having them on camera will ensure you're able to prevent them from doing it again.
At first, fully protecting your business can seem like an almost unmanageable task. But once you break it down into the three main areas of burglary defense, employee theft prevention and retail security, it becomes much easier and Teledair Communications & Security can help you to devise and implement a comprehensive security strategy to achieve your goals.