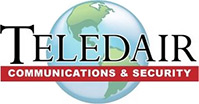 We Service What We Sell. Since 1987.
Address: 2541 Elmira Street, Sayre, PA 18840
Phone: (800) 888-7493
Teledair: Providing Elmira, New York With Communications & Security Solutions Since 1987
In the past, if you wanted a good life with a reliable income, most people would tell you to get a job with a big corporation. And while plenty of
people are still happy following that path, a lot of events over the last five years or so have shown that corporations aren't nearly as stable as most of the population used to assume.
Since we live in a world where it seems like the economy is constantly changing, more individuals than ever before have decided they don't want to tie their financial future to an entity they don't control. Instead, they want to take control by starting their own business and forging a new path for themselves. And when starting your own business one of the first things to consider are your business security solutions.
If you've considered starting or have started your own business over the last few years or even got your start well before the economy became so tumultuous, you know that there are a lot of positive things about this type of lifestyle. However, you also know that in order to reap big rewards, you have to put in a ton of hard work. The stereotype of someone kicked back on the beach with their laptop simply doesn't match the reality of building a successful business in Elmira.
Even though it's been over two and a half decades since Teledair Communications & Security got our start in New York, we remember what it's like to build a business from the ground up. Never losing that memory is one of the things that's allowed us to provide great service to a wide variety of businesses in different stages of growth.
From providing a burglar and camera system for the Elmira Salvation Army to equipping Open MRI with a phone system, we provide customized solutions based on exactly what a business needs. So instead of worrying about annoying up sells, choosing to work with Teledair means you can count on the complete focus being on what your business requires.
How We Can Help Your Business Grow and Stay Secure
Regardless of the specific industry, communication is at the core of all Elmira businesses. That's why we offer a variety of flexible phone systems and features. Whether your primary communication is internal, external or both, we can keep you connected for a price that fits your budget. We can also ensure that you'll be able to easily expand your system as needed.
In addition to keeping businesses connected, we also take a lot of pride in keeping business throughout Elmira secure. Because our business burglary alarms, surveillance systems, IP cameras and access control systems can all be customized, we can create the ideal solution for your specific location.
With over 25 years of experience to our customers in Elmira, NY, you don't have to question whether or not we'll be around when you need help with any of your communication or security systems. So if you want to do business with a local Elmira company that truly cares about building lasting relationships with customers, stop by or give Teledair a call at (800) 888-7493.