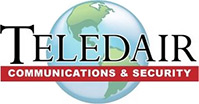 We Service What We Sell. Since 1987.
Address: 2541 Elmira Street, Sayre, PA 18840
Phone: (800) 888-7493
Teledair Communications: Your Business IP Camera Headquarters
Video cameras are a great way to monitor your business. IP cameras can help you deter theft and help avoid disputes between employees. If you're wondering what makes IP video
cameras the most compelling solution, a big part of their efficiency comes from the fact that they're network-enabled. As a result, they can provide convenience and features that other cameras simply can't offer.
That being said, not all IP cameras provide the same level of performance. In order to get a solid return on this technology investment, you need to choose the right cameras for your specific needs. The good news is even if you don't think of yourself as a tech buff, with the help of the customer service pros at Teledair Communications & Security you'll be able to pick the right option.
The Importance of Clarity
Surveillance cameras are only as useful as the image they convey. That's why it's very important to choose cameras that are capable of capturing clear images. In terms of resolution, 352 x 288 is generally classified as the lowest tier. 720 x 576 is the next step up, followed by 1280 x 720, which is the resolution that's capable of delivering the clearest image.
In addition to resolution, it's important to be aware of a few other factors. Frame rate, video compression formats and light sensitivity can all impact the clarity of video. Additionally, advanced features like Pan Tilt Zoom (PTZ), the ability to record audio and still being able to pick up images in complete darkness may be a good fit for specific applications.
Connectivity is Crucial
Cameras need a reliable network in order to work consistently and be as effective as possible. While there are several different options for establishing a network, either a wireless deployment or Power Over Ethernet (PoE) model are considered the best ones. The former generally costs less, while PoE is often recommended for businesses that may have their camera networks targeted by savvy intruders.
What are Your Storage Needs?
There are some surveillance cameras that save footage directly on their local media. However, because that type of storage is the most likely to be compromised, a better option is to choose
cameras that transmit footage to a secure storage location.
A common issue many businesses face is once they do a little back of the envelope math to estimate what kind of storage capacity they're going to need, they realize that the video they capture is going to take up a huge amount of space. Since storing huge amounts of data can get expensive, there are two main options businesses have for keeping this cost under control.
The first is to lower a camera's frame rate. This is good in areas where the period of exposure is large. The appeal of this approach is it reduces storage requirements without reducing the clarity of video. The other option is to use motion-detection cameras. Because these cameras don't record around the clock, their footage won't take up as much storage space.
As you can see from everything we've covered, the best camera systems include a variety of components. If you want help choosing the right components for your system, don't hesitate to contact us!