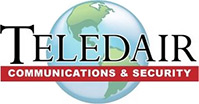 We Service What We Sell. Since 1987.
Address: 2541 Elmira Street, Sayre, PA 18840
Phone: (800) 888-7493
Teledair Communications & Security, Where Customer Service is Key
At Teledair Communications & Security, we pride ourselves on providing the best communication and security solutions, as well as experienced technical support. Additionally, we take a lot of pride in providing the best service
possible to every single customer. Since 1987, great customer service has been at the core of our business.
Although we've always done our best to treat our customers extremely well, we feel like we've learned a lot over the past 26 years. So with that mind, we want to share what we believe are the keys to delivering great customer service:
Always Respond
While this may seem obvious to someone who doesn't run a business, any business owner will tell you that there are times when you receive an email that simply doesn't seem to warrant a response. And even though no one immune from having this feeling from time to time, we do believe that the least we can do for anyone who takes the time to contact us is send a response.
Pay Attention to Social Media
For the first two decades we were in business, social media simply didn't exist. And even though it may have seemed like a fad when it started, platforms like Facebook and Twitter prove that social media is here to stay. That simple fact is why we pay attention to what people are saying through those sites. Whether it's directly about us or simply about our industry, it's surprising just how much you can learn about customers from as few as 140 characters.
Empower All Employees
When your business reaches a certain size, it makes sense to have a dedicated customer service department. That being said, just because a certain department has this task as their primary responsibility doesn't mean other employees shouldn't be able to contribute. Because you simply don't know exactly who a potential customer may reach out to within your business, we believe in not only educating everyone about how to handle these situations, but also empower them to deal with problems on their own instead of having to anger customers by throwing them into a long support queue.
Pay Attention to Feedback
You can't make every single person happy 100% of the time. Since negative opinions are going to arise from time to time, we feel it's best to view them as an opportunity for review. Instead of getting defensive, we take an honest look at whether or not there's something we could be doing better by meeting your communication and security needs.

Focus on Trends
Continuing with the previous point, there are times when negative feedback is simply the result of someone having a bad day. While we do take all positive and negative feedback equally seriously, we've found that in terms of what requires action, hearing the same thing from multiple customers is generally more urgent than feedback that only comes from just one person.
If you are a home owner or run a business in the Sayre, Binghamton, Elmira, Towanda, Ithaca and Wellsboro areas and are in need of security solutions, the customer service professionals at Teledair Communications & Security are here to help.