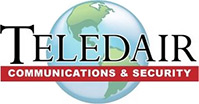 We Service What We Sell. Since 1987.
Address: 2541 Elmira Street, Sayre, PA 18840
Phone: (800) 888-7493
Summertime in the Northeast Means More Time Outdoors and Away from Your Home Office
As summertime nears in the Northeast region of the country, you are probably looking forward to getting away from being cooped up in the home office. Today's small businessperson
that works from home can literally take the office with them wherever they go. Thanks to smartphones and tablets, you can do work while enjoying the warm summer atmosphere in the city or countryside. It's only natural that the allure of hot weather, blue skies and good vibes causes you to plan trips away from home. Lots of successful people in your shoes do the same thing.
There's just one little thing that can steal all the joy out of your summer business plans. Burglary. We hate to be the ones to bust your idyllic summer bubble, but better us than some wily criminal. You see our company, Teledair, is in the business of security systems. As such, we are experts in all things security. Our observations over these many years have shown us that home business owners are extremely vulnerable to robbery while away from the home office.
Maybe you have never even considered the possibility of someone breaking into your home, rifling through your private business papers looking for checks and credit card information. Unfortunately, this kind of thing happens all too often. The summer months are especially a busy time for burglars. That is why we recommend that all home business owners consider protecting valuable information with the latest technology. Teledair specializes in all types of security systems, including home office alarm systems.
We know that as a small business owner that works out of a home office you cannot afford to allow criminals to gain access to your financial information. Surely, if the big retail giants are having customer information stolen, the smaller businesses are also being targeted. And the worst part about this type of crime is that you don't really know who
is doing the deed. All it takes is one business transaction with the wrong person to become a target of identity theft. Or, they target your home office for invasion. There is nothing worse than coming home after a wonderful excursion only to find your home office is complete disarray.
Teledair is headquartered in Pennsylvania, so we know this region quite well. Our security systems are state-of-the-art, which means your home and business can have the strongest protection from burglary currently available. It is okay if you don't have the first clue about burglary alarms. We are open to chatting with you on the phone or sitting down with you in person to discuss all the capabilities of each of our alarm systems.
We explain how they work, how they are installed, how to operate them for maximum safety and all of the costs involved, including installation and servicing. With summer fast approaching the time to take action and improve the security of your home office is now. Contact us today for a free consultation about your security needs.