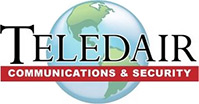 We Service What We Sell. Since 1987.
Address: 2541 Elmira Street, Sayre, PA 18840
Phone: (800) 888-7493
Security Solutions for Home and Office
In today's increasingly connected world, it's common for the line between home and work to be blurred. Some people go as far as to say that there's no such thing as a work-life balance. Instead, the best case scenario is to integrate the two. Although that may be taking things a little far, it's definitely true that more business communications take place at homes than ever before. That statement is especially true for people who run their own business.
Teledair Communications & Security knows that as a business owner, if you want to ensure that the two places most important to you are fully secure, here's how to make that happen:
Keeping Your Home and Family Safe
As you start this process, you'll want to look at a variety of home and business burglary systems. The reason it's worth looking at different options is you'll be able to see exactly what features are available. Then you can decide what features you definitely want to have for securing your home.
For example, security systems and customer service may not be two topics you initially associate with each other. But once you start thinking about the importance of having a fast response available in the event you need any support for your communication or security systems, this feature will likely move towards the top of your priority list.
In addition to providing optimal security, you'll always want to pay attention to the different features systems have which are designed to make operation as convenient as possible for your entire family.
Preventing Security Problems at Your Office
Voip phone systems aren't the only important piece of technology for your business. Technology should also play a central role in your security strategy. Access control is one of the main components of this strategy. What that term refers to is having the ability to control exactly who is able to access different areas of your business. The great thing about choosing a digital system instead of a traditional lock and key option is not only will you have full control, but you'll also have a complete record of exactly when anyone entered your office.
Surveillance is the other main component of a solid business security strategy. Whether you want to monitor a warehouse location or an outdoor area, if your business has surveillance needs that could be considered challenging, you'll be happy to learn that IP cameras can get the job done for you. With features like tilt, pan, zoom and weatherproof protection, cameras in this category can provide surveillance anywhere that you need it.
Because it can take a little bit of time to find the right security solutions for both your home and office, some people are hesitant to get started with this process. But what's important to remember is the investment you're making is in the safety of your family and the business you've worked so hard to build. Once you get everything taken care of, you'll be able to enjoy complete peace of mind. And if you need any assistance throughout the process, remember that Teledair Communications & Security is always available to help!