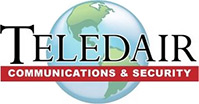 We Service What We Sell. Since 1987.
Address: 2541 Elmira Street, Sayre, PA 18840
Phone: (800) 888-7493
Learn How to Stop Theft with The Best Business Burglary Systems
Your competitors aren't the only people who can potentially do damage to your business. It's also important to realize that thieves who may have no interest in what your business does,
but are quite interested in any valuable assets you keep at your business location have the ability to steal from you. While it's frustrating to think that anyone would attempt such a thing, it's a reality you need to be prepared for. The team at Teledair Communications & Security have some tips to help you avoid these costly situations.
If you want to ensure that you're not helpless against intruders who want to steal from your business, a quality security system is the best form of protection. But since home and business burglary systems are a wide category, it can be difficult to pinpoint exactly what your business needs to stay secure. That's why we're about to go over quite a bit of information about how to start determining exactly what you need in these types of burglary system or  security system:
Protection Starts with Access Control
Night isn't the only time of day when you need to worry about keeping your business secure. Even when employees are in and around your office, there's a chance someone may try to
enter without permission. The best way to prevent that is with an access control system. Not only does an access control system make it easy to keep unwanted individuals out, but it also provides a concrete record of when everyone who's authorized to access your office gets there.
The Right Features Make All the Difference
Perimeter sensors on windows and doors, interior motion sensors, glass breakage sensors, a panic button, and a combination of hidden & visible surveillance systems are a few features that can take a business security system from good to great. By adding any of those features that are missing from the current burglary system used by your business, you will be able to fully protect everything in and around your office.
Video Surveillance Provides Peace of Mind
As previously mentioned in the last section, video surveillance should be at the core of your security system. The main reason this type of technology is so appealing for any business is because it will ensure that you're never caught off guard or left in the dark. By being able to see what's happening and actually have a record of those events, you won't ever feel like keeping your business secure is a task that's beyond your control.
An Experienced Team is the Key to Getting What You Need
The usefulness of working with people like the professionals at Teledair Communications & Security, who truly understand security can't be emphasized enough. The biggest reason is you can be certain that your system is going to have everything necessary to make your business truly secure. That level of security will give you peace of mind during those limited times when you have a break from being at the office. Additionally, working with trusted experts will allow you to get exactly what you need without wasting money on additional features that aren't the right fit for your specific business or simply aren't effective at all.