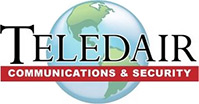 We Service What We Sell. Since 1987.
Address: 2541 Elmira Street, Sayre, PA 18840
Phone: (800) 888-7493
Keeping Your Business Safe Over the Holidays
The holidays are supposed to be a time when you can relax, enjoy the company of your family and recharge your batteries so you can kick off the new year on a high note. While there's no
reason you can't have that experience, the security experts at Teledair Communications & Security remind you that it's important to be aware that crime does spike during this time of year. Although that's not the most pleasant reality to face, the good news is there are steps you can take to minimize the chances of your holiday festivities being disrupted by any type of crime towards your business.
To provide your business with the best protection possible, here's exactly what you need to do:
Don't Skimp on Security Cameras
If you know your Southern Tier  business needs more security cameras but you've been coming up with excuses for not getting them, now is the time to get the cameras you know you need to have in place. Even though cameras are an investment, they're an addition to your business that will provide a huge return in terms of the increased security you'll experience.
Vary Your Security Camera Visibility
Simply putting security cameras in plain sight can help deter criminals. But that doesn't mean you want every camera to be in a prominent location. In addition to your highly visible security system, it may also make sense to put some cameras in more discreet spots. Using a mixture of both options will help maximize both your monitoring and deterrence capabilities.
Simple Measures Deter Senseless Crimes
In an age that's driven by digital connections, you think most people would realize that committing a quick "smash and grab" crime is a losing proposition. However, statistics show that
there are still a surprising number of individuals who find a way to convince themselves that they can get away with that type of crime. Since quick attempts at theft are a possibility, be smart about what you keep within reach. If you're on the fence about whether or not to lock away certain items, it's almost always in your best interest to thrust your instincts and secure them out of reach.
Keep Plenty of Employees on Hand
A common assumption about criminals is they put a lot of thought into the crimes they commit. While that may be true for someone who actually views themselves as a criminal, for a person who suddenly finds themselves in a dire situation, their attempt at crime is going to involve looking for the easiest possible target. Because they're going to have a lot of doubts about doing anything rash, keeping plenty of employees around your store or office can be enough to deter them from following their sudden impulse.
While the holidays bring out the best in many people, it can also bring out despair or desperation in others. Even though individuals who are in a bad state of mind can pose a threat to your business, as long as you take the necessary steps to protect it, you can ensure your holidays are wonderful and the new year starts off without you needing to worry about any lingering problems.
At Teledair Communications & Security your security is our number one priority and we are available for business consultations for our clients in Towanda, Binghamton, Elmira, Ithaca, Wellsboro, Sayre and surrounding areas that will provide you with piece of mind this holiday season.