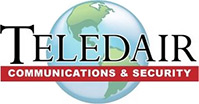 We Service What We Sell. Since 1987.
Address: 2541 Elmira Street, Sayre, PA 18840
Phone: (800) 888-7493
Teledair Communications & Security – Serving Our Clients Since 1987
Communication & Security
Since our family business first started back in 1987, "We Service W
hat We Sell" has been one of our guiding principles. This approach to doing business has allowed us to build lasting relationships with customers who have a wide range of unique needs.
Because technology is at the heart of communication networks and security solutions, we've witnessed a lot of change over the last two and a half decades. But one thing that has never changed is our commitment to finding the absolute best solutions for our customers.
Unlike some of our competitors who simply try to push the most expensive option that's on the market, we take the time to understand your specific needs. Once we know exactly what you need, we can use our extensive industry knowledge and experience to pair you with the perfect solution.
Since we've always been a full-service company, we're able to offer a variety of quality products and services. Our key areas of operation include:
Access Control Systems:
Locks and keys are the most basic examples of access controllers. However, the combination of a lock and key has some significant shortcomings for many situations. Lost keys, no entry records and the ability for keys to be easily copied are just a few examples of why this standard access control system isn't as secure as many people assume.
We offer a variety of proven systems for businesses or even homeowners who want a more secure form of access control. Because electronic systems can be based around key codes, fobs or programmable cards, it's actually possible to control who is able to enter and when. Additionally, features like an alarm that sounds if a door is kept open for too long are also available with this form of advanced system.
Business Phone Systems:
Regardless of how long they've been around, when a business experiences significant growth, dealing with the need for an increased number of phones in the office is one area that can cause stress. The good news is because we've helped businesses of all sizes with their business phone systems, we can find an effective solution for you that won't break your budget.
Security Systems:
A solid security system significantly reduces the likelihood of a home or office being broken into. Additionally, knowing that your property is protected at all times will give you complete peace of mind.
Surveillance Systems:
We know from personal experience that building a business is no easy task. That's why we want to help you protect yours with the right video surveillance system. What's great about this type of system is not only can you see anywhere within your facility, but because we can help you pick one with the latest remote access technology, you'll be able to have that visual access even when you're away from the office.
Now that you know a little more about what we do, if you have any questions about how we can help you, don't hesitate to call or email us!